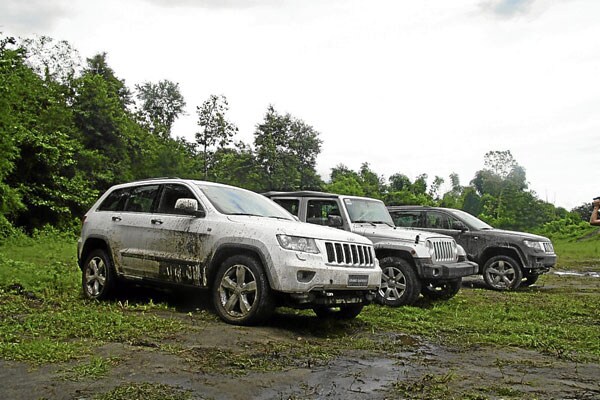 - Underneath the civilized exterior of the Grand Cherokee and Wrangler are off-road beasts waiting to be let loose
By: Jason K. Ang
Philippine Daily Inquirer
IF YOU go into a Jeep showroom nowadays and take a casual look at the vehicles on display, you can be forgiven for thinking that the vehicles cater primarily to a certain lifestyle. One where you can imagine you're climbing a mountain trail, while actually going up the ramp of your neighborhood mall. Or one where you feel like you've hunted moose, while loading up a side of bacon at the supermarket.
As we discovered this weekend, nothing could be further from the truth. Jeep traces its origins to the go-anywhere vehicles of the US military. It is true that since then, they have evolved into comfortable and even luxurious transportation. But one thing that the company builds into all its vehicles-a deep reserve of off-road capability.
To remind the press and its customers of just what Jeep is all about, the folks from CATS Motors organized a day of off-roading behind the wheel of its newest vehicles. As we peeled into the Angeles Dirt Motorsports Track in Pampanga, we certainly expected the body-on-frame Wrangler to easily handle all the off road challenges custom-built by Landcraft Adventures Inc. However, it was flanked by a pair of 2011 Grand Cherokees, luxury SUVs that would at first seem as appropriate for off-roading as a pair of dress shoes would be for hiking up Mount Pinatubo.
After some safety instructions, which we're sure everyone was listening intently to, we were let loose to play with the Jeeps. We climbed into the Grand Cherokee, the 2011 vehicle that was launched just last summer. The SUV is now built on a unibody chassis, which should improve ride, quietness and handling. The interior is also a very pleasant place to spend an afternoon in, with power leather seats, power tilt-telescope steering wheel, and hard-drive equipped entertainment system.
One potential disadvantage of a unibody chassis is less capability to take on tasks such as off-roading. But the new Grand Cherokee seemed to have lost none of its off-road prowess. We drove it through a simulated jungle track, plunged it sideways through a slippery embankment, and climbed up what can best be described as a mountain of mud. Through it all, the luxury SUV carried on as if tackling nothing more disturbing that a pockmarked piece of pavement. The car's four-wheel drive system was able to find grip where none seemed possible. And all of this was done with the car's bog-stock 18-inch street tires.
Ample power is of course a big part of the car's formidable capability, and the Grand Cherokee provides plenty: for the Limited, there's 286 hp and 347 Nm from the 3.6-liter V6. The Overland variant ups that to 352 hp and 520 Nm, from a 5.7-liter Hemi V8.
Power goes to all four wheels via a five-speed automatic and the Quadra Trac II electronically-controlled four-wheel drive system. The driver can turn a knob to select a terrain, whether Sand/Mud or Rock, and engage the four-wheel drive low range via a button. There's also Sport mode, for a more rear-wheel-drive feel. The Overland can also raise and lower the car to increase its ground clearance. The traction control system also helps by selectively braking wheels and channeling torque where there is grip.
Where the Grand Cherokee was capable, the Wrangler was simply in its element. Clambering up Mount Mud and plowing through tire-deep water features was a day in the park for the body-on-frame vehicle. The Jeep we drove, the Wrangler Unlimited, featured a standard soft-top that could be rolled back for open-air motoring. The Wrangler is also well-equipped, with a comfortable interior. Equipment like the Infinity speakers are mounted on the roof frame. The Wrangler's 3.8-liter V6 produces 199 hp and 315 Nm and courses it through a four-speed automatic.
As this is Jeep's 70th anniversary year, CATS is offering special editions of the Wrangler and Grand Cherokee. The Wrangler Unlimited 70th Anniversary comes in at P2.820 million, while the Grand Cherokee 3.6L Limited is at P3.68 million, is available with a special bronze paint scheme at no extra cost. The Grand Cherokee 5.7L starts at P4.18 million.
At the end of the day, the cars were none the worse for wear, aside from some bumper trim that were peeled off by large rocks and trees along the course. It warms our heart (or was that just the steak and burgers) to know that Jeep isn't just a grille and a badge. It stands for go-anywhere capability that can be enjoyed by any well-heeled gentleman or lady-whether they are just trundling through the city or plowing their way through a deep, muddy trail on the farm.